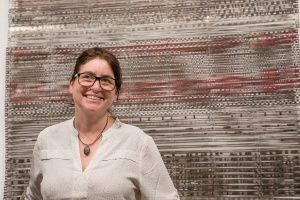 About the Artist
Born in 1970, in the Department of Treinta y Tres (Uruguay), Verónica Vázquez studied Drawing, Painting, Sculpting, Engraving, Ceramics, Tapestry and History of Art. She frequented the Fundación Pablo Atchugarry where she was in contact with its founder Pablo Atchugarry. This experience allowed her to meet masters such as Octavio Podesta, Henrique Broglia, Miguel Angel Battegazzore and Wifredo Díaz Valdéz, important figures of Uruguayan art.
An important step of her studies was her course on History and Theory of Art, by artist Miguel Ángel Battegazzore, as well as the Sculpture Workshop with Luis Robledo at the "Casa de la Cultura" in Maldonado Uruguay. She pursued further pottery studies in Buenos Aires, with potter Jorge Fernández Chiti.
Through a process of finding and collecting materials Vazquez recuperates discarded objects to create visually striking sculptures and wall reliefs. Her work references both the history of Uruguayan Constructivism as well as the legacy of the Italian Arte Povera.
In 2014 the Piero Atchugarry gallery started representing her work, organizing immediately a solo exhibition in 2014 and another in 2015. Afterwards, the gallery edited a monograph catalogue on her work.
In September 2015, her work has been shown in "Amore e Scelta" foundation Abbazia di Rosazzo, Udine (Italy). In March 2016 the Art Historian Luciano Caprile organized a solo exhibition of her work at the Museo Della Commenda di Pré in Genoa.
In April 2016 the curator Luca Tomiò selected her work Moldes, to be included into the exhibition Paradiso Inclinato at the Ex Dogana of Rome, alongside with works by masters such as Alighiero Boetti, Gino De Dominicis, Tano Festa, Jannis Kounellis, Pier Paolo Calzolari, Luigi Ontani, Giulio Paolini, Mario Schifano, Michelangelo Pistoletto, Emilio Prini and Cesare Tacchi.
In May 2016 her work has been exhibited in the group show "Love and Choice" at the MIIT Museum in Turin. In November the National Museum of Visual Arts of Montevideo holds an important retrospective of her work.
In 2017 Vázquez participated to "The Hidden Dimensions II" a group show curated by Ilaria Bignotti at Marignana Arte, Venice, during the Biennale. The same year she had solo Exhibitions at Marignana Arte in September. In December 2017, the Efrain Lopez Gallery, Chicago, held Vázquez first solo show in the United States.
Her artworks are in private collections in Uruguay, Argentina, Brazil, Canada, Italy and the United States, as well as public collections such as the Buckhorn Sculpture Park (USA), the Fundación Pablo Atchugarry (Uruguay) and the Museo Nacional de Artes Visuales (Uruguay).