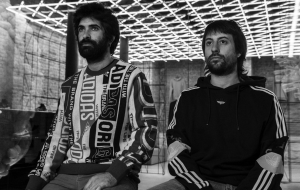 About the artist
V.P.M is a young audiovisual collective from Barcelona. We specialize in video productions, special effects, motion graphics, 3D animations and digital graphic design.
Today we use our knowledge to develop spectacular video mappings and interactive installations.
In its few years of life, the collective has been a finalist in several international video mapping competitions, FIMG (Girona) Festival Luz y Vanguardias (Salamanca), Art Vision (Moskow), Zsolnay (Hungry), 1 minute projection mapping (Japan), Videomapping festival (Lille), selected for the MIRA festival 2019 residency, among others.
And they have been awarded the first international prize at Odessa Mapping (Ukraine) and ACSEE festival (Datong) and Videomapping festival with the installation "My little rubbish world".