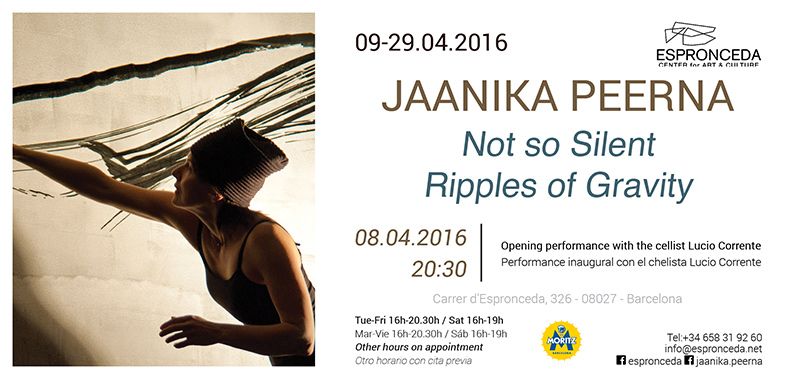 Solo exhibition of drawing installation, and a collaborative performance with Lucio Corrente.
General Public Opening:

8th of April at 20h30
Exhibition:

April 9th until April 29th
For her solo exhibition at Espronceda, Jaanika Peerna is going to create a room size installation using large scale drawing on thin layers of plastic materials and cutting of the surfaces so that rhythmic composition is born as the material is composed within the space of the gallery.  Additionally small pigment and graphite drawings capturing collisions of vibrations will be part of the exhibition
Peerna's long lasting interest in transitional phases in our organic surroundings as well as signature rhythmic drawing are also present in this exhibition which is inspired by the recent important announcement by scientists who  detected gravitational waves, the ripples in the fabric of space-time that Einstein predicted already a century ago.
"This important proof completes Einstein's vision of a universe in which space and time are interwoven and dynamic, able to stretch, shrink and jiggle like a mattress shaking when that sleeper rolls over, producing ripples of gravity: gravitational waves", as New York Times states.
For the collaborative performance at the opening of the exhibition with a cellist and physicist Lucio Corrente who takes the vibrations of gravitational waves translated to sound and transforms them further into musical notes which he uses to compose a piece of music. Peerna will step into the dialogue with the composition with live drawing and movement thus creating a time and space warping element to her solo exhibition at Espronceda.