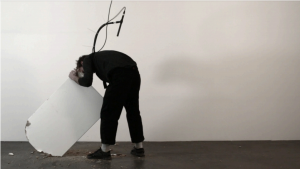 Adrien Cavallin is a 29 y/o artist, based in Brussels.
He was graduated from the Brussels Royal Academy of Fine-Art on 2019.
Quand on ne sait rien faire, il faut être prêt à tout. Il a cette sorte de courage. L'idée d'action le hante,
comme le paradis impossible à sa nature, la cure invraisemblable.
Tous les matins il fait son examen de conscience et il tord sa journée entière dans le sens de la médiation,
et de ce qui lui paraît propre à être modifié, mais tantôt des progressions de détail. Chaque matin il doit
recommencer… et il médite. Mais la journée vient et toujours il se déborde.
Il voudrait agir. Mais la boule veut la perfection, le sens, le cercle, le repos.
*
Il se meut pourtant continuellement. De sa boule sort un muscle. Le voici heureux. Il va pouvoir marcher
comme les autres, mais un muscle à lui seul ne peut créer la marche. Il se fatigue bientôt. Il ne fait plus un
mouvement. C'est le soir chaque jour.
Il a ainsi des milliers de départs de muscles. Ce n'est pas la marche. Il croit qu'ils vont engendrer les
marche. Il n'est qu'une boule. Il s'entête. Il est à l'affût du mouvement. Il est le fœtus dans un ventre. Le
fœtus ne marchera jamais, jamais. Il faut le sortir et ça c'est autre chose. Mais il s'entête, car c'est un être
qui vit.
Henri Michaux – Lointains intérieurs, Difficultés