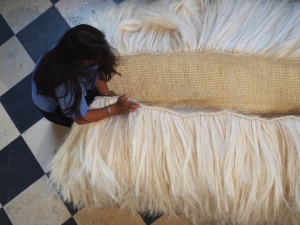 Maria E André
Maria E André (Sucre, Bolivia, 1996) is a french textile artist and sculptor. She lives and works in Brussels. Gratuated with a BA and a Master's Degree in Textile Art, Tapestry, minor Sculpture in 2020 with a great distinction from the Royale Academy of Arts in Brussels. In the frame of the Laureate's Exhibition The miror and the lamp organized by the ARBA-ESA (january 2021), she obtained the prize Espronceda for an artistic residency at Espronceda, Center of art & culture, Barcelona. From 2017 to 2021 her work has been exhibited in various collective exhibitions between France and Belgium (such as BOZAR – Centre for Fine Arts Brussels, La Manufacture – Museum of memory and textile design Roubaix).
In her work, she develops a ritual practice around materials with which she begins a work of quest for gestures. Between the balance of the power and the delicacy of a caress, she explores the weaving structure in relation with sculpture. The fiber, the sand, the metal are thought as an extension of the hand, both as materials and as tools. With these fertile projects, she seeks to give them substance, an anchor and roots. By its immediate powers of extension and continuity, the weaving structure allows the passage form large to small, in an ambiguity of scale, to say of itself only what happens inside. Between flesh and soul. Between constituted reality and fictitious world.
We are invited to accept the dream, as we have accepted the universe.