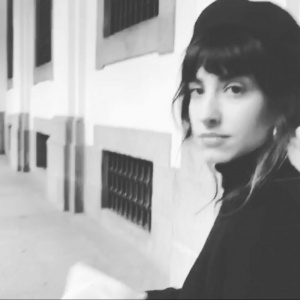 About the artist
Agustina Palazzo ( Córdoba, Argentina, 1992) is a multidisciplinary artist & cultural manager.
Graduated as an Audiovisual Comunicator in Argentina she obtains specialization in Interaction Design and new media from Master in Advanced Interaction, at IAAC, Barcelona.
Her work is focused in cyberculture and social communication. Between a critical and poetic vision she is interested in human behaviors, their desires and misunderstandings affected by technology.
Till 2017 Agustina lived in Argentina where she co-founded and leaded "220 CC" a contemporary art centre, and "Radio APOLO" a radioart FM station. Since 2018 based in Spain, she participates in diferent art residences and projects. Her works and collaborations have been presented at different festivals and art galleries in Europe and Latin America. enlighting Sonar + D, LLUM Barcelona, Teorema, Fundación Miró, Reshape and Tsonami, are sonoro.
Actually she is an artist in residence at "Piramidón, centre de rate contemporani" and works at Haimney Gallery. One of her current Projects is RADIORATOR, in collaboration with the designers Betiana Pavón y Mateus Sartori. Radiorator is a sound experimentation performance, that results from capturing radio frequencies through a digitally designed and manufactured technology helmet. The wearable, works as a portable device that allows to listen to the broad spectrum of radio frequencies. Equipped with an antenna, receives the frequencies around it, allowing to interact with the environment. Using the sound interpretation of radio frequencies, Agustina performs an experimental audiovisual live set.
The Project has been presented in different venues in Europe and Latin America and has been awarded with the 3rd Prize in RESHAPE 2019 in the SMART PRODUCT Category Competition in Barcelona, Spain.