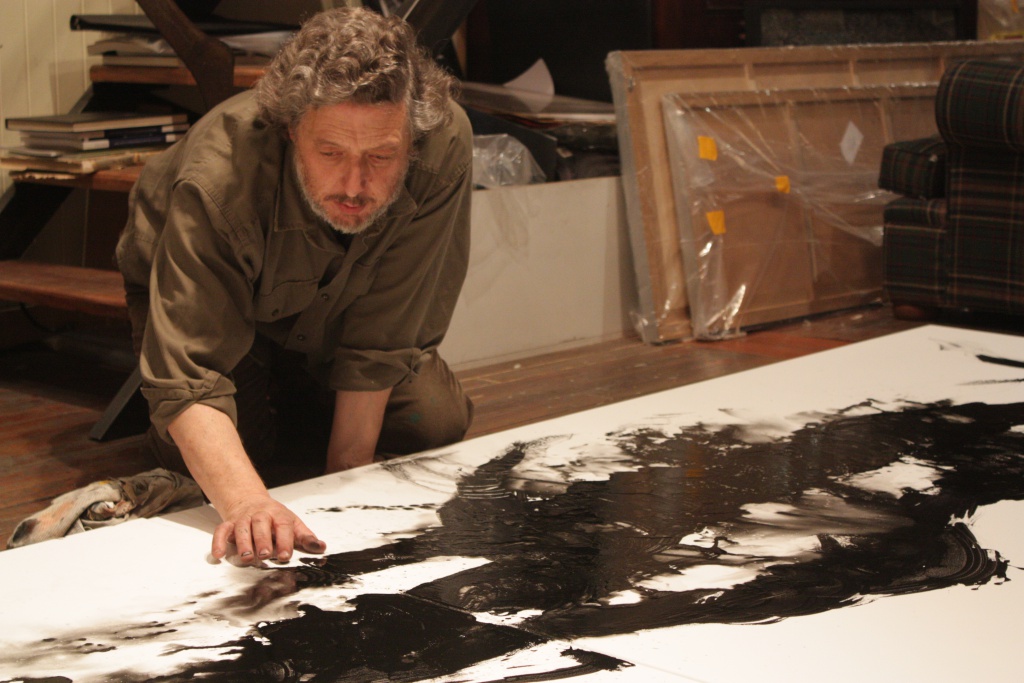 About the Artist
Considered as an emblematic figure of the symbolic universe of Contemporary Latin American Art, the work of Andrés Waissman is located in the visual arts scene in recent years with a singular image. Sinking his roots in the immediate reality and its time, his paintings play down the pure expression in favor of communication; they are not mere fictional chronicles of events, but a real positioning in the contemporary world. His works are not descriptive, but more like theoretical. Rather than a disappearing universe, Waissman represents an emerging world, increasingly existent and unavoidable situations demanding reflection and a conscious look. His painting is neither indulgent nor evasive; on the contrary, it is urgent.
Some of his series like Multitudes; Alfabeto Perdido; the black and white paintings Abgrund; the Mythological Animals and his recent Virutas (Steel Wools), place him as an artist with his own signature. His work is a philosophical and political search, as well as plastic: a real thinking in images. Nomadism and migration are some of the concepts with which he is working from a time ago.
His long years abroad kept him away from the local productions. However, because of the contemporaneity of his current work and his humanistic concern -present since his beginnings as an artist-, added up with teaching of courses, seminars, programs and art clinics, he becomes a mentor for independent work of new generations of artists from Argentina and the region.
Bio
(July 14th, 1955 – Buenos Aires, Argentina) Formed in independent workshops, he began exhibiting quite early in the mid 70's, having his first solo shows at Lirolay Gallery in 1973 and 1977, respectively. At the same time, he hosted cultural radio programs, interviewing critics, intellectuals and artists of various expressions. In 1974 he worked in the studio of Augusto Torres in Barcelona for a year and in 1978 he resided in Paris with Antonio Seguí working at his studio for the whole year. In 1984 he moved to San Francisco, CA, where he worked at the Argentine Consulate organizing cultural events on behalf of his country; and from where he developed an international career exhibiting in galleries and museums in Los Angeles, San Francisco, New York and different cities in Europe.
In 1992 he returned to Buenos Aires, where he started teaching and lead for a period of three and a half years- Styles, a TV program dedicated to rescue cultural values, especially in the visual arts. In 1995 he created and directed Dock del Plata Espacio de Arte, the first art showroom of Puerto Madero. It became one of the most prestigious places in the city until 1998, when the building closed its doors to be sold. Art News magazine included this space as one of the Top 3 Places in Buenos Aires -along with galleries as Ruth Benzacar and Der Bruke-. Andrés Waissman started to develop at this stage as a curator and communicator.
In 2005 the book Waissman (a migrant artist) was published, with texts by Rodrigo Alonso, Jordi Aladro Font, Fabiana Barreda, Florencia Gro and María Paula Zacharias. In 2010 the documentary Waissman was presented in MALBA by Eduardo Montes Bradley for PBS and broadcasted to the US.
Since 2012 he is one of the head teachers of Proyecto PAC: Prácticas Artísticas Contemporáneas –along with Rodrigo Alonso, Rafael Cippolini, Valeria Gonzalez, Daniela Gutiérrez, Carlos Herrera, Gabriel Valansi and Eduardo Stupía-, an annual educational program of art analysis, criticism and production.
He has had several solo shows and more than sixty collective exhibitions in Argentina and different cities. His work is part of renowned private collections and museums in England, Belgium, Italy, Israel, USA, Venezuela, Argentina and Chile, among others. In turn, he has also participated in prestigious international fairs such as Pinta London; Lisbon Art; Art Santander; Scope Miami, Miami International Art Fair; Arteamericas Miami; Art Chicago; Chicago Contemporary & Classic Art Fair; Lima Photo, Peru; Ch.ACO Santiago de Chile; Miart Fiera Internazionale d'Arte Moderna e Contemporanea of ​​Milan and arteBA in Buenos Aires.
He continues working on his art and developing new projects in his studio in Palermo, Buenos Aires; where he also leads workshops and art critique programs.