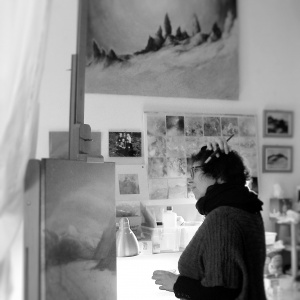 About the artist
instagram: anna_bussot
facebook: Anna Bussot
Anna Bussot was born in Barcelona in 1956. She studied at the Centre d'Art and Design del' Escola Massana, graduating in fire enamels and also has a degree in Painting and Drawing from the Faculty of Fine Arts at the University of Barcelona. She is also a regular artist of the Resipole Studios art gallery, located on the shores of Loch Sunart, Ardnamurchan, Scotland.
After having spent the holidays in Scotland for over twenty-five years, like most artists, she is drawn to the energy of a location or a subject, and seek to capture her experience through artistic expression. Following a period of rediscovery, her work focuses on the memories or the remembrance retrieval, where the landscape becomes a tool and no longer capturing a moment. That is when she constructs realities or fictions and she invites the images of the outside world to transform into images of the inner world. They are invitations to escape to a magical environment, secret, intimate…
Anna's images explore the abstract sequence marked in the heart of a map, the direct perception of what is imagined, to finally represent the memory of that instant. Echoes of three scenarios that you can experience by looking and admiring them with your spirit.