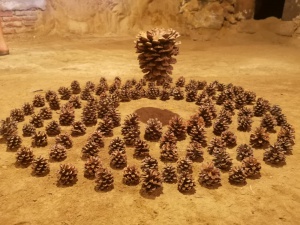 Lena Wurz investigates the relationship between walking and thinking, exploring the act and movement of walking, a ritual wandering, through the pace, development and rhythms of her thoughts and emotions. The artist creates her own language and unfolds her narrative with compositions on paper, by combining cuttings from books from different sources, such as guide books specializing in country walking, a summary of human anatomy & movement with her monoprint drawings, her personal observations and records from her walks during the time at Nectar.
The audience is welcomed at the entrance of the space with a pocket size artist book, a tool to visit the exhibition with the aim to perceive their own walking through hints and
facts, instructions and observations, creating different paths – back and forth – in a playful way.
In Framed Flexion, Lena Wurz explores her creative process by mapping her thoughts and transporting them into different papers and supports, as we can see in the series PREPARING TO WALK (four brown prints), Count your steps until your thoughts interrupt (big folded cut prints), hacia/desde (a series of A4 prints pinned to the wall), the big wood dice pieces Find a _____ and her sound piece Toe Lines Linked and displayed across the exhibition, her body of work invites the audience – whose experience is at the heart of the artist's work – to become active participants by
entering a non-linear game through a playful, instructing and reflecting language.