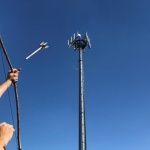 Lorenzo Lunghi (Crema, 1993). He lives and works in Milan. After completing his Bachelor's degree in Pittura e Arti Visive at the Academy of Fine Arts Giacomo Carrara, Bergamo (2018) he concluded the Master's program in Visual Arts, Work.Master Contemporary Artistic Practices, at HEAD, Geneva (2021).
From 2016 to 2019, he was part of the collective DITTO, whose exhibitions we mention:  Eclissi, MACAO, Milan, 2018; Spettri (MAXXI award), curated by Giulia Gelmini, Villa Farinacci, Rome, 2018; Blind Date, Current, Milan, 2018.
Since 2019, he has curated a series of itinerant exhibitions in extra-urban contexts, including: Erbacce, Monza, 2020; Miraggio, Fontanile Fontanone, Farinate, 2019; FORTEZZA, Giacomq, Bergamo, 2019.
His works have been exhibited in various contexts, including:
Data Mining, La rada, Locarno, Switzerland, 2023;
Superblast II, NAM – Not A Museum, Manifattura Tabacchi, Florence, Italy, 2022;
PLATTFORM22, Kulturhaus Palazzo, Liestal, Switzerland, 2022;
Adesso no, curated by Bruno Barsanti and Gabriele Tosi, Manifattura Tabacchi, Florence, Italy, 2022;
Mal di pancia (solo show) AN/CONTEMPORANEA, Ancona, Italy, 2021;
Warum ist das Schöne so schwach, Giulietta, Zürcherstrasse 144, Basel, Switzerland, 2021;
Domani Qui Oggi, curated by Ilaria Gianni, Palazzo delle Esposizioni, Rome, 2020;
Exception of (not) being, curated by Essenza Club and Rhizome Parking Garage, Online show, 2020;
DEDICHE, curated by Sonnenstube and Lumpen Station, Sonnenstube, Lugano, Switzerland, 2020;
Weaving Home, Limbo off-space, Geneva, Switzerland, 2020;
BAITBALL (01)  slip an extra shrimp on the barbie for you; curated by Like A Little Disaster, Palazzo San Giuseppe, Polignano a Mare, 2020;
INSONNE, Sonnenstube, Lugano, Switzerland, 2019;
Avviso di garanzia, curated by Giacinto di Pietrantonio and Simone Ciglia, Fuoriuso, Pescara, 2016.