www.mayabarsacq.com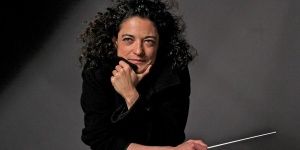 Maya Barsacq is the founder and conductor of Cadenza. An ardent and dedicated advocate of classical music and especially contemporary classical music, Barsacq has strived to champion new compositions since the inception of the orchestra.
Barsacq has premiered with Cadenza, Four World Premieres, Nine US Premieres and Three West Coast Premieres, including works of Vasks, Milhaud, Poulenc, Shariff, Auric, and Jeanrenaud. She also works as a freelance music director, conducting opera, and musical theater pieces in the United States and in Europe.
Barsacq is a strong advocate of music education and appreciation in and out of the classroom. She frequently is invited to teach master workshops in conservatories and universities, and also enjoys working with young children in the classroom.
Recently, Barsacq worked closely during her four month internship, with Carlus Padrissa of La Fura dels Baus. She conducted a retrospective of composer Luciano Chessa at YBCA , a production of Schoenberg's Pierrot Lunaire and Johann Strauss's Fledermaus in San Francisco. She also assisted conducted Tchaikovsky's Eugene Onegin at Opera Idaho in 2015.
Upcoming engagements in 2018 include, a composing residency in Venice Italy as well as teaching masterclasses for singers and conductors in Barcelona-Spain .
Barsacq also is co-founder of a new multi disciplinary music and art ensemble: NuAroma that will premiere works in 2018 in Barcelona. Additionally, Barsacq will continue to collaborate with La Fura dels Baus on various projects in 2018/2019 season.
Maya Barsacq received her conducting training from esteemed conductors: George Cleve, Nicole Paiement, Barbara Day Turner, and Michel Singher.
She is the proud recipient of the 2005 Gail Rich Award for her dedication to the arts