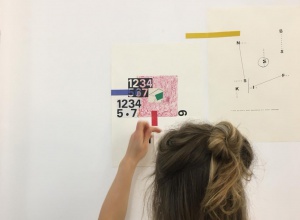 About the artist
After completing her Fine Art postgraduate in Visual Arts at Camberwell College in London, the Hungarian artist moved to Barcelona in 2018.
Nora's most often used mediums are collage and typewriter poetry: 'The focus of my interest is based on construction and disarrangement within words, characters and places. I like a playful and humorous approach to obscure topics. My main materials are paper, ink and pictures in various forms. You will likely find me printing with letterpress, photolithography or the risograph machine, sitting with my typewriter, making collages, using a photocopier or carrying a pile of books out from libraries. '
Alongside her own practice, Nora is part of a visual art collaborative: Edition Residencies and gives art workshops and lectures focused on avant-garde and contemporary art practice.