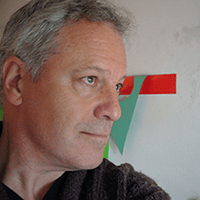 About the artist
Montoya composes, that is: organizes geometries and objects in the abstract space, and the composition takes him to the painting.
Josep Montoya is clearly a painter, but a meditated, conceptual painter, everything and even, of his evident sensualism. We can appreciate the daring colors of his palette, which include a special esteem for seemingly frivolous shades like mauves and blue or turquoise green. To what he calls "awkward geometries", which could be related to the lyric of Albert Ràfols-Casamada, but with a new, more expanded and complex dimension, color and space need each other. There is a deliberate lack of adjustment, a subtle disengagement from which the margin that defines space and form emerges. There is, then, a poetics of marginality of great elegance -if we do not understand this in a frivolous way- that fascinates by the dialogue between neutrality, surface and depth. Despite the undisputed refinement of this painting, there is also something tragic in it, an awareness of failure or impossibility that obviates the ease of reading but dignifies the intellect. Álex MitraniAtenció, rigor ifectacte, (fragment) text del catàleg de l'exposició PERMEABILITATS: Joan Furriols, Pep Montoya, Jordi LafonMuseu de l'Art de la Pell. Vic from 14. 10. 2016 to 31. 01. 2017
Statement
I understand the artistic exploration as the possibility of making configurations that synthesize structures and ordinations, that speak of themselves, but also, of the same creation -in the field that is-, of the individual and the world.
Geometry in general is presented, as a paradigmatic reference of rationality, and at the same time, as I use it -with inaccuracy- it is probably a reflection of the impossibility of "perfect achievement" in any activity of the individual, but which, in its essence, maintains the will to advance among the current complexities.
Automatic actions, serials, repetitions, are explorations carried out on the space, as a support or container, to bring out the tensions that occur when "the perceived intervenes" that has disturbed or intuited the artist.
I also believe that in the current context, any generating process is crossed by the complexities of the moment … Hence, the multiplicity of manifestations that arise.