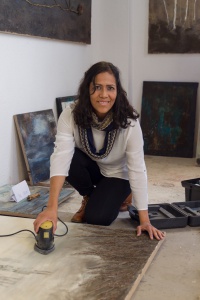 About the artist
Rocío Maldonado (Pucallpa-Perú, 1977), of Peruvian and Swedish nationalities,
She began her artistic training in the 90s at the visionary art school "USKO-AYAR", directed by the renowned shaman and painter Pablo Amaringo. She continued hier education in plastic arts at the "Basis Skolan" school in Stockholm, Sweden. She completed her studies at the Masana School of Barcelona, ​​where she studied "Illustration" (2011-2014) and "Applied Arts to the Wall" (2014-2017).
Rocío's works feed from varied cultural references to which the artist has been exposed throughout her travels and lived stages. Stresses in his works the social, religious and political. Her technique is based on water and oil painting, which integrates materials such as ropes, leaves, stones, wood, or marble sand. This technique is, at the same time, synthesis and evolution of others worked in previous stages, such as illustration, figurative art or landscaping.
Rocío has lived and worked in Peru, Sweden, Israel, India, and Spain.