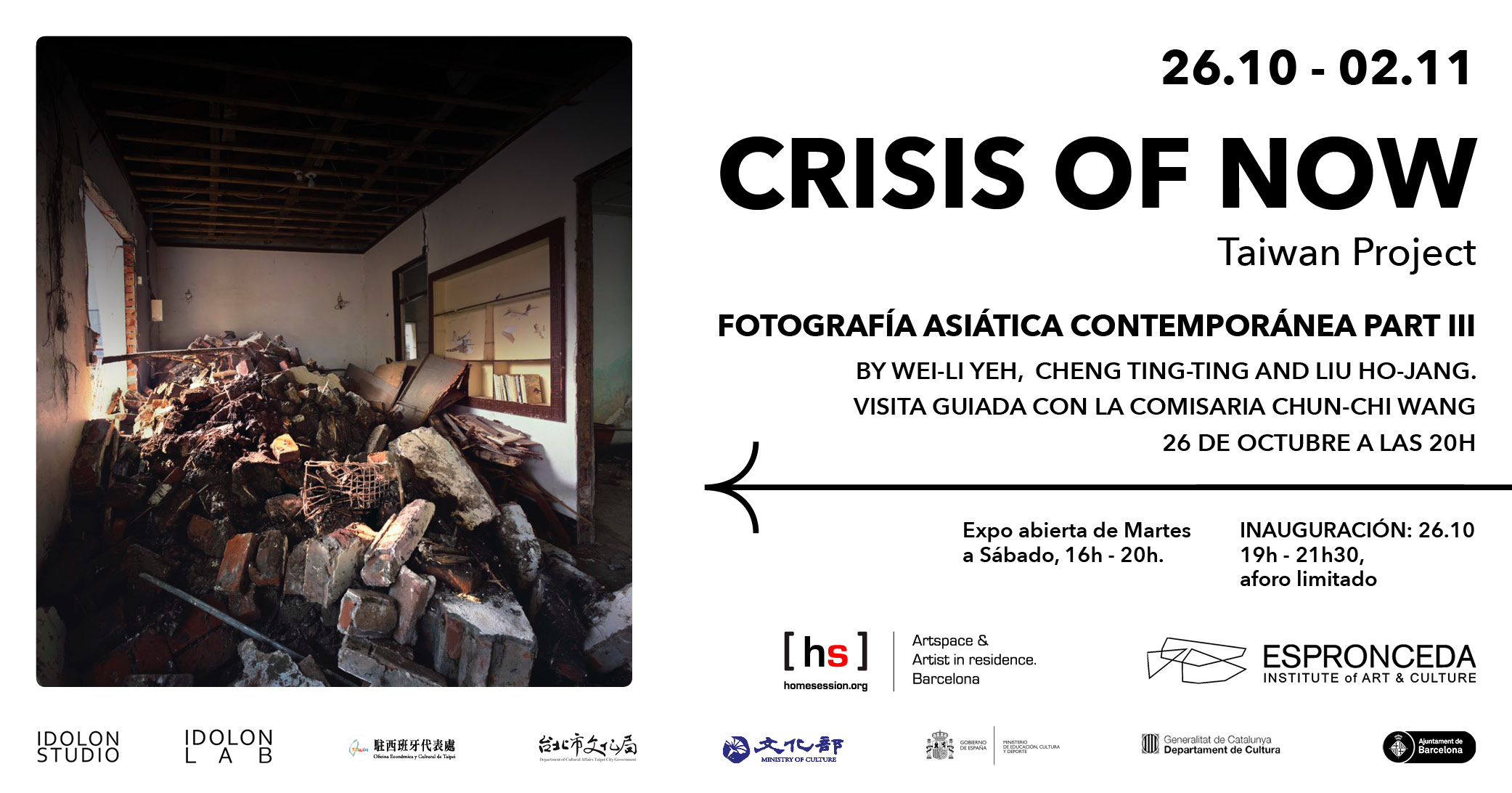 Crisis of Now – CONTEMPORARY ASIAN PHOTOGRAPHY – Part III 
Is a series of unpublished photography exhibition that analyzes the culture and artistic practice of contemporary art from the perspective of Asian creators. Crisis of Now. Part III premieres in Barcelona and brings together the work of Wei-li Yeh, Liu Ho-Jang and Ting-Ting Chen. Part I traveled in 2018 to different cities in Germany, where you could see projects Yao Jui-Chung, Yang Che-Yi and Yunyi Liu; and Part II was shown in 2019 in the United States, with photographs by Hou Lulu Shur-Tzy, Ting Chaong-Wen and I-Hsuen Chen. The Crisis of Now series is curated by Chun-Chi Wang, a Taiwanese curator based in Berlin. Your job is focused on the relationship between humans and technology, and reveals the excess of mechanization and virtualization of today's world, where speed and control play a role crucial.
Crisis of Now. Part III brings together 45 works in Barcelona, some in a large format, that narrate specific experiences and life stories, while allowing the building of relationships between disparate historical contexts from different perspectives. Some of the series show different geographic locations synchronously, while others focus on the same location at different times. Personal experiences and collective consciousness are linked to multiple historical trajectories where political and social vicissitudes play an important role. The exhibition brings together the work of Wei-Li Yeh, Liu Ho-Jang and Ting-Ting Chen.
The Artists
Wei-Li Yeh was born in Taipei (Taiwan) in 1971 and emigrated to the United States at the age of 11 with his family. During his adolescence, in Tampa (Florida), he became fascinated by heavy metal music and the rock'n'roll. He studied photography at the University of South Florida (1994) and in Rhode Island School of Design (1997). Following a 1996 visit to Taiwan (his first since emigration to USA), was drawn to the themes of displacement, assimilation, cultural identity and racial politics. Yeh then moved to New York, showing his work at Columbia University, the Bronx Museum of Art and the International Center of Photography. In 2002 he decided return to Taiwan, becoming a very active artist and curator. His work is exhibited o collects around the world, and his photographic or textual projects explore the dynamics of the human being as an individual in relation to collective practices. Currently lives and works in Yangmei (Taiwan).
Ting-Ting Chen was born in 1985 in Taipei. She graduated in Advertising and Public Relations at the Fu-Jen University and moved to London where she studied photography at the University of Westminister (2009) and graduated in Fine Arts from Goldsmiths College (2014). Her work is has exhibited in solo exhibitions organized at the Taipei Fine Art Museum, the Grand Siècle Gallery (Taiwan), Identity Art Gallery (Hong Kong), Gallery Nomart (Osaka, Japan), Addaya Palma and Luis Adelantado Gallery, in Spain. She has also participated in exhibitions. Collectives at ARCO Madrid, the Bi.City Biennale of Urbanism-Architecture in Shenzhen (People's Republic of China), III Moscow International Biennale for Youg Art, KuanDu Museum (Taipei), National Taiwan Museum of Fine Arts, National Art Museum of China (Beijing), Art 14 (London) and Art Stage Singapore, among others. In 2012 she was selected among the 40 artists Asia's most relevant publications by Hong Kong's Perspective Magazine.
Liu Ho-Jang was born in 1972 in Taipei (Taiwan). He graduated in 2002 from the Creative Institute of the Queen's College of the City University of New York. His work reflects on identity
photographic in the context of contemporary society. In 2011, his work was published in Aster. Magazine. His exhibitions include Sculpture Games, Fields, at the Tapei University of.
Arts (2019); Super Daily, at the Taipei Biennial (2018); Wuzhong Accounting Painting-Reality Virtual, at the Taipei Fine Arts Museum (2017); Key Meditation, at the Asian Biennale (2017); Public Spirit, at the Ujazdowski Castle – Center for Contemporary Art, in Warsaw (2016); City Charm, at the Kaohsiung Museum of Fine Arts, in Taiwan (2015); and New York, in Queens
International Biennale, organized by the Queens Museum in New York (2013). The photographer lives and works in Taipei and Tainan and is a full-time professor at the Institute of Plastic Arts from the Tainan University of Fine Arts.
ABOUT HOMESESSION
Created in 2007 by Olivier Collet and Jérôme Lefeure, Homesession is an exhibition space, creation and residence of contemporary artists that encourages creation in the field of visual arts. Its activity focuses on supporting and offering diffusion to artists, as well as promote interdisciplinary experimentation. Homesession is an independent space, and its international network amplifies the impact of actions beyond the local sphere.
Inauguracion