20.12.2017
19h > 21h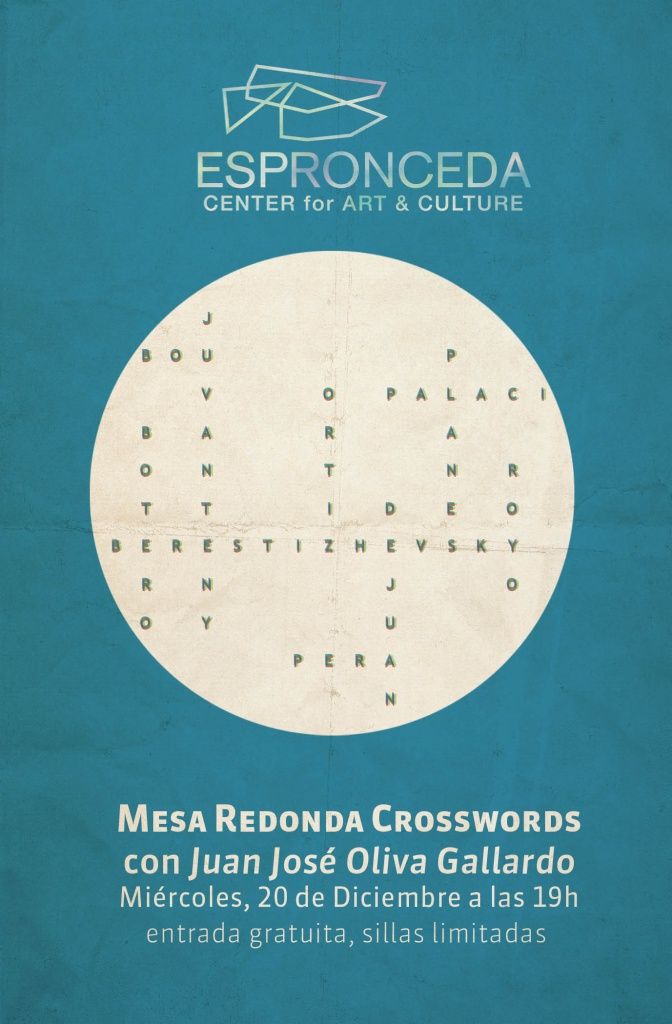 After great success of our last exhibition, Crosswords, we decided to extend it, bringing it back to Espronceda's galleries for a special event, on the 20th of December. The art critic and curator Juanjo Oliva will host a round table to discuss the works of art and the concept behind the exhibition Crosswords and its authors. Most artists will also be present on the debate.
Entrance is free but subject to seats availability. Come early and enjoy a mentally refreshing evening.
Below some impressions of Juanjo and his approach to the roundtable.
Una vez revisado los conceptos de los diez artistas participantes he observado que todos, de una manera más o menos evidente, vertebran su obra entorno al tema Nominal y/o el tema Universal.
Lo Nominal y lo Universal es un conflicto que arranca de las escuelas escolásticas de la Alta Edad Media en donde se plantea, por un lado, si se debe dilucidar si en realidad nuestras ideas tienen valor objetivo en la realidad o son sólo meros conceptos convencionales, esta es la doctrina nominalista defendida por Roscelino quien, además, señala que las cosas de la misma especie sólo tienen en común el nombre. En este contexto se da también la visión Universal defendida por S. Anselmo quien se limita a determinar que los predicados generales son válidos para concluir la idea.
Debido a los matices que ofrece 'Crosswords', debido a su voces, me ha parecido oportuno observar, desde la distancia, estas dos visiones de un mundo, el de la Edad Media tan convulso y confuso pero que, sin embargo, nos sirve como recurso para graduar la contemporaneidad, cómo y de qué manera nos entendemos en relación a los otros y también en relación a nosotros mismos.
El crucigrama, con sus ideas o conceptos tangenciales unidos tan sólo por una sola letra nos permite visualizar un elemento: 'el laberinto', espacio sito en determinadas catedrales góticas y que representa el esfuerzo por encontrar la salida a través de un serie de obstáculos, en ocasiones abismos que deben ser superados para fluir hacia la resolución final de nudo.
Un crucigrama es una suerte de laberinto y en éste los artistas que conforman 'Crosswords' han considerado que deben ser oídos a pesar de que el encuentro entre las mismas voces sea un encuentro tangencial. En realidad lo que importa es la airosa solución del conflicto planteado por el mismo formato y por los términos en él encajados.
En un ejercicio de rizar el rizo he querido, para esta charla, relacionar el laberinto y el crucigrama con el círculo, figura ésta que fluctúa entre el estancamiento o la feliz conclusión de una propuesta, su cierre, su conclusión que, por otra parte, es un volver a empezar, un reinicio, un bucle.
El círculo, sea cual sea su interpretación, es concebido por muchos de nuestros creadores como cueva. Una cueva primigenia que, sin embargo, nunca llega a ser abandonada del todo indicándose, de esta manera, el paso tímido o poco iniciado del creador que la habita. Lo nominal más recalcitrante se encuentra enclaustrado en la línea, línea cerrada que impide que se produzca el horizonte multicultural o intercultural, sea éste, o no, una ficción o una mayúscula confusión.
Mi participación el día 20 será la de moderador de un círculo con voluntad de apertura gracias a la participación directa de cada uno de los creadores, previo un pequeño análisis de los puntos que aquí se han señalado. Pasaré a interpretar las líneas conceptúales y plásticas de los artistas, intentando centrar mis observaciones desde los conceptos Universal y Nominal añadiendo a éstos los matices aportados por cada uno de los artistas participantes. Posteriormente daré paso a interpelaciones directas obra/autor que faciliten la fluidez de la charla.
Juanjo Oliva
Crítico y comisario de Arte