ESPRONCEDA presents
"FRICTION"
by the French artist Clara Claus
From February 4th to February 18th 2017
What tells a heartbeat? What contains a movement of the body? What hides a breath? Our body carries our millions stories, collect them in our innumerable particles, and the multiple music of the body tell us those enigmatic/elusive stories.
For the exhibition FRICTION at the Espronceda art center, Clara Claus investigates the music of her body and extracts shapes, colors, images, like the residu/traces of what composes it, of this body navigating through things with so many tedious/meticulous mechanisms, and etches what it receives.
From these recordings of the music of the body, the visual deployment operates through fragments of paint- ed paper and wood, and video (with the help of the video artist Natacha Ikoli), diverse creative techniques affirming the intuitive visual response to what could be telling the body as images.
On the occasion of the opening, Clara will invite musicians from her family and close entourage Pedro Soler, Gaspar Claus and Ines Bacan to create a dialog with these sonic and visual explorations of the body. Ines' Cante, Pedro's guitar and Gaspar's cello bring us flamenco music that carried Clara through her child- hood and comes here into play with her intimate exploration of FRICTION.
TRAILER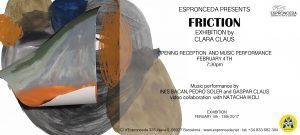 NEW ALBUM RELEASE – SERRANA – INES BACAN, PEDRO SOLER AND GASPAR CLAUS
This exhibition is also an opportunity to celebrate the album release of SERRANA, a special journey with the flamenco singer Ines Bacan, the flamenco guitar player Pedro Soler and the cellist Gaspar Claus. Accompanied by Pedro Soler on the guitar, sometimes joined by Gaspar Claus with his cello, Ines Bacan sings in this new album Serrana "Palos " (styles) from the "Levante" that she heard, a a little child, sung by her grand mother Fernanda. The Bambera, Fandango but also "Taranto" in its ancient form, "Granainas" from her husband Francisco Vargas' land, or "Serrana", very rarely sung nowadays because of the difficult vocal range. "Romance Corrido" is a very ancient epopee that was sung in the gypsy celebrations. Also two compositions by her son Jose Vargas, a lullaby (nana) and a song "Por Tientos" evoking the trains deporting the gypsies by the nazis. She ends this beautiful program with a Cante Jondo Seguiriya.