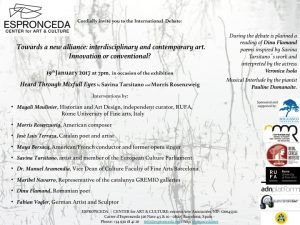 Roundtable
Towards a new alliance: interdisciplinary and contemporary art. Innovation or conventional?
19thJanuary 2017 at 7pm,  in occasion of the exhibition
"Heard Through Mixfull Eyes"
by Savina Tarsitano and Morris Rosenzweig
 Interventions by:
Magali Moulinier, Historian and Art Design, independent curator, RUFA, Rome University of Fine arts, Italy
Morris Rosenzweig, American composer
Louis Terraza, Catalan poet and artist
Maya Bersacq, American/French conductor and former opera singer
Savina Tarsitano, artist and member of the European Culture Parliament
Dr. Manuel Aramendía, Vice Dean of Culture Faculty of Fine Arts Barcelona
Maribel Navarro, Representative of the catalunya GREMIO galleries
Dinu Flamand, Romanian poet
Fabian Vogler, German Artist and Sculptor
During the debate is planned a reading of Dinu Flamand poems inspired by Savina Tarsitano's work and interpreted by the actress Veronica Isola
Musical Interlude by the pianist Pauline Dumanaite.