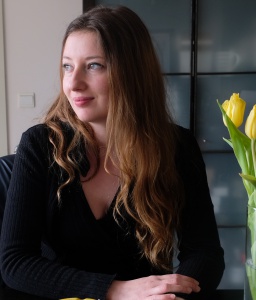 My name is Elise Vlaminck, I was born in Brussels in 1993. I obtained my master's degree in painting at the Royal Academy of Fine Arts in Brussels in 2019. I work and live in Brussels.
The important points of my work are the contact between different images and the frictions they generate when observed by the viewer. Voyeurism was the main subject of my research in my last exhibitions.
It arises in diverse and varied ways, as much as the media that I use as the content of my painting. What particularly interests me is to challenge the viewer (or spectator) in an unexpected situation. The gaze and especially the way of looking is always at the center of my work, I create with a particular intention,
the intention to experience the gaze of the spectator. The gaze is the center around which other aspects revolve. It is a kind of metavision.
History of art also animates my research a lot. Details of masterpieces are, for me, often a place of conversation involving the painting and our contemporary ways of looking.