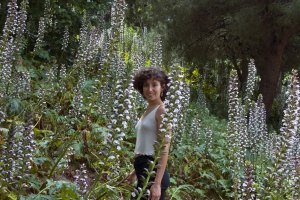 Jessica Moroni (1984) lives and works in Barcelona and is an artist-in-residence at Fabra i Coats. In 2020 Jessica Moroni had a solo exhibition at Espai Souvenir (Barcelona, ​​ES). In 2019 she had asolo exhibition at Massapê Projetos (São Paulo, BR) and at Swab Art Fair as part of the program
Ephemeral Projects, curated by Caterina Almirall. She participated in Art Nou Primera Visió with the Collective exhibition Suggesting is insinuating with prudence in espai 2 angels barcelona (Barcelona, ​​ES) and in the collective El Castillo de los brillos rotos in Guadalajara 90210 (Guadalajara, MX).
In 2018, she carried out a sculpture and performance project that was presented at the Museu de Ciències Naturals de Barcelona (ES), at Konvent 0 (Berga, ES) and at dance festivals. She participated in the exhibition Fic-Prodart collective at Fabra i Coats (Barcelona, ​​ES).
In recent years she participated in several international group exhibitions such as Miami New Media Festival (Miami, USA), Festival Espacio Enter (TEA, Tenerife, ES), MálagaCrea (Centro de Arte Contemporary CAC, Málaga, ES), Biennial OSTRALE '12 (Dresden, DE).
Her work is present in the Museum Archives Collection de l 'Art Brut (Lausanne, CH) and in the Granada City Council (ES).
Jessica Moroni has a degree in Fine Arts (2006-2009), she studied it at the Faculty of Fine Arts Arts of Venice and the University of Granada. In 2018 she finished the Master in Research and Production in Art from the University of Barcelona.