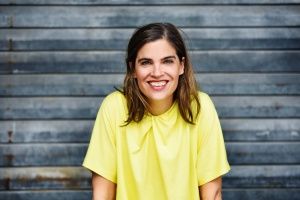 About the artist
Judith Döker is an actress, author and photographer.
Judith Döker first studied law, before deciding to become an actress. Döker has starred in and collaborated on many German film and TV productions, receiving awards at the Global Art Film Festival in Los Angeles and the Sansevieria Film Festival in Ohio for writing, producing and starring in the short film "Marlen & Bijou".
Döker lived in Mumbai, India from 2012 to 2014. Her autobiographical book "Judith goes to Bollywood" was published by Random House 2015 and made the Top 30 in the Spiegel bestseller list. Döker's short story "Bombay" was included in the anthology "Unbehauste – 24 Autoren über das Fremdsein, 2. Edition" (transl. "Homeless – 24 Authors on being foreign"), published by the Dittrich Verlag in 2016.
Dökers appeal "Mehr Utopie wagen – mit Good News" (transl. "Risking more Utopia – with Good News") will be published in Fall 2018, in the anthology "Wenn ich mir was wünschen dürfte – Impulse für eine moderne Demokratie" (transl. "If I can make a wish – Impulses for a Modern Democracy").
Döker was awarded the Honourable Mention at the "International Photography Awards" (USA) in 2016. Her photographs from India, Pakistan and refugee camps in Libanon, as well as her campaign #Die3Fragen (transl. #The3Questions) can be seen in international exhibitions.
Döker´s "HEROES OF WAR – Photographic Impressions of Daily Life in Lebanese refugee Camps" has been exhibited from 19.7. – 19.10.2018 at the Goethe-Institut Barcelona.