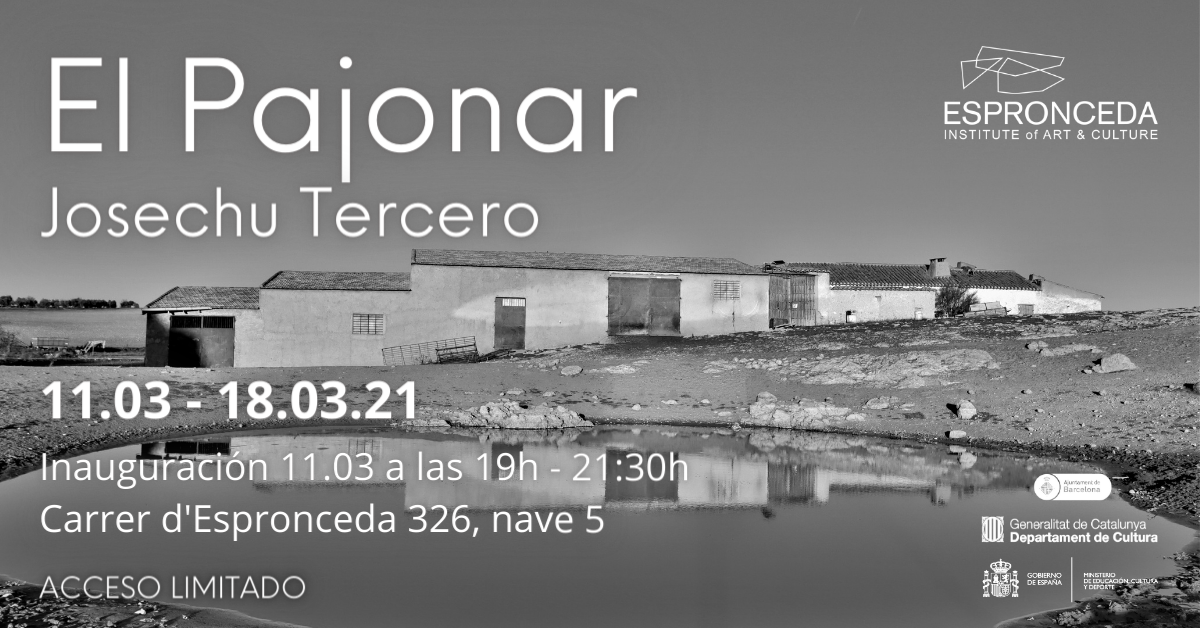 Josechu Tercero presents under the title El Pajonar, an approach in the form of homage to the world of dry stone constructions in rural areas, from different spaces of plastic and visual creation. His natural restlessness and curiosity lead him to investigate the half-abandoned rural environments of the land of his ancestors, La Mancha, to find symbols, icons, traces of a not too distant past with respect to the uses that, of the stones and the land, made its ancient inhabitants. Also, to discover other expressive possibilities that until now were kept in the background within his artistic production. And it is at this moment that the artist feels the need to expand creative horizons and show them without complexes.
Oil paintings on large format black and white canvas, graphite drawings of different hardnesses, 6 analog photographs in B / W, a large format digital photograph, a video installation in relation to some of the paintings with 4 small projected videos on the back of the walls literally turned into wall sculptures.
This time also has the participation of two works by the artist Nathalie Rey with whom he has been collaborating regularly for some time, documenting photographically and videographically the performance Shipwreck III made by herself in the geographical location of the walls, as indicated the title of the exhibition, in the Arroyo del Pajonar in the province of Albacete. In turn, the main elements of the performance are shown in the form of installation in dialogue with the paint, small plastic containers cause for environmental concern. A poetic critique of the polluting action of human beings around vestiges of the past.
Small constructions in the form of straight or slightly curved walls as protection from wind and cold for both ancient peasants, hunters and the animals they used to plow the land. Cabins or as they call in the area, Cuckoos of false dome and small entrance. Majanos, conical constructions like borders of the territory. All made with the same stones that could be extracted with the plow to facilitate agricultural tasks – which were piled in different ways at the edges of the terraces – and which, at the same time, were used to build their humble houses in the villages. Elements that are an intrinsic part of the rural landscape not only of that region, but of any other in the process of degradation and abandonment. Tribute to these forgotten elements, full of history, poetry and halfway between sculptures, architectures, magical totems, archaeological remains and authentic eternal constructions of memory.
The Pajonar is a multidisciplinary exhibition that can be seen at Espronceda Institute of Art & Culture in Barcelona from March 11 to 18, 2021. A sample as varied, clear and direct in form, as full of subtleties and hidden messages…
The poetics of the humble and abandoned. The poetics of resistance.
"I couldn't help but think that, in those little walls, my father, when he was a child, could play hide and seek or even dream of a better life. Rather, he was looking for food … And he did not die of hunger or cold then, because miracles exist and because his desire for life was stronger. Thank you, Dad. "
José Luis García Tercero