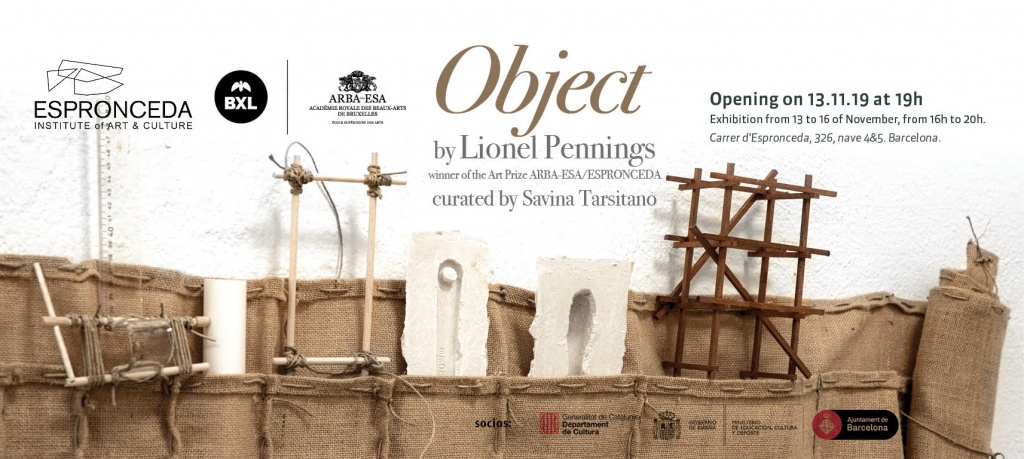 Lionel Pennings, Belgian emerging artist is the winner of the third edition of the ARBA-ESA/ESPRONCEDA Award Prize (Royal Academy of Fine Arts of Brussels in cooperation with the city of Brussels), Lionel Lennings. 
The exhibition "Object" is the result of his artistic research, curated by Savina Tarsitano. On the 13th will be the opening in presence of the artistic director of the Royal Fine Arts Academi of Brussels, Enzo Pezzella.
Lionel was born in 1993 in Brussels, Belgium where he lives. He studied at the Royal Fine Arts Academy of Brussels, (ERBA-ESA) Belgium where he studied and obtained his master's degree in sculpture. His work has been exhibited in Brussels. Lionel Pennings won the GodeCharles award prize getting a fellowship by the GodeCharles foundation. The prize allows young talents, unknown before the award, to become recognized by a panel of experts made up of famous artists. The renown of the contest is based, amongst other things, upon the reputation of the artists who sit on the jury. In 2019 he got the ARBA-ESA/ESPRONCEDA Award Prize for an artist and research residency in Barcelona to allow him time for the artistic research and a final exhibition. His work is based on archaeology history from an aesthetic point of view. His research questions matter and form and their impacts on the collective imagination.