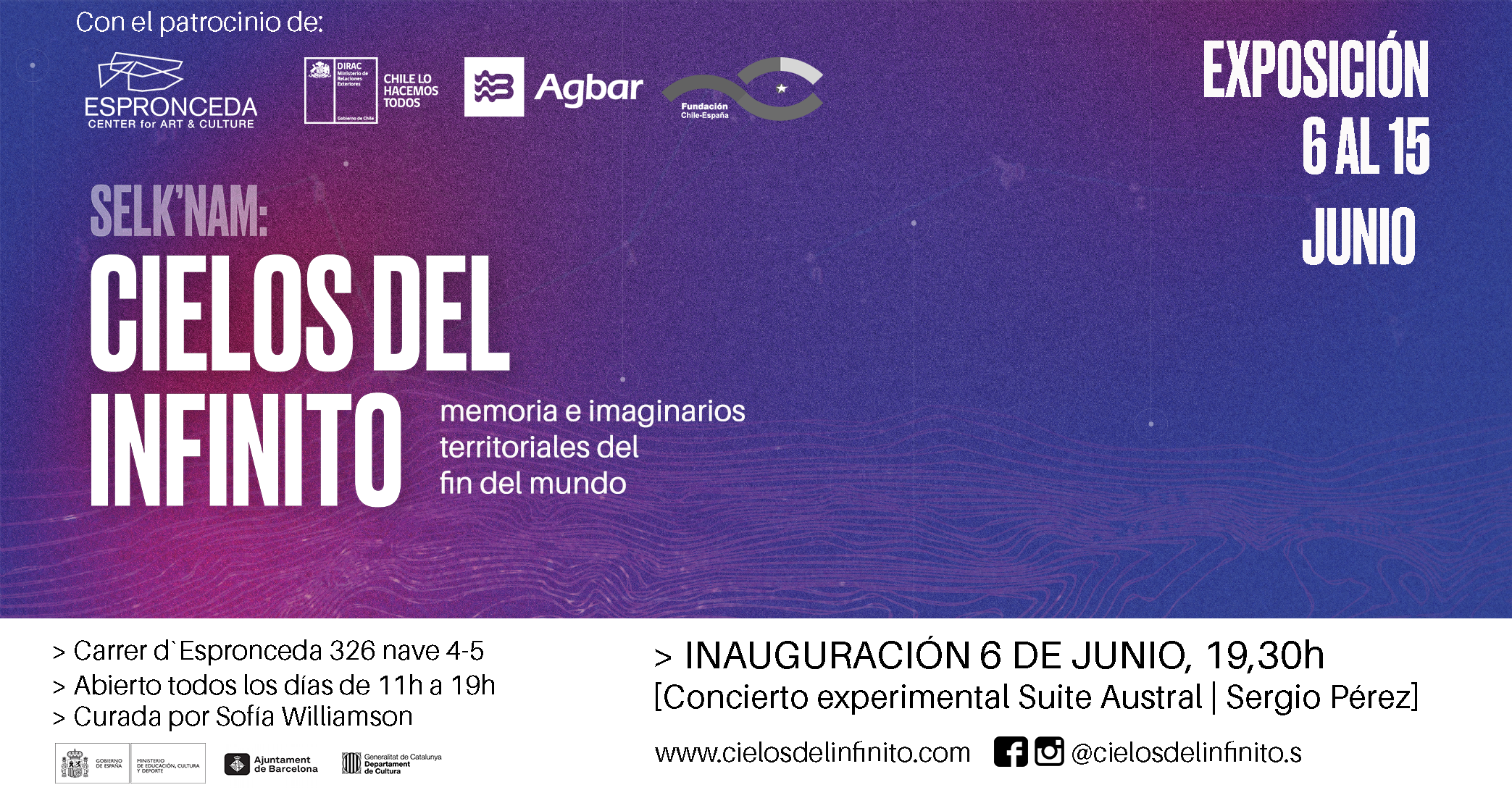 From expressions of historical memory construction – with new visual, audio-visual, sound readings and linked to new media – the processes of territorial / cultural re-appropriation, the construction of identities and imagined territories.
Taking as its starting point the tragic history of the Selknam people, originally from Isla Grande of Tierra del Fuego – the southernmost end of South America -, the exhibition alludes to the worldview, transculturation process, displacement and genocide suffered by this community through artists working in a research context and a critical production.
Selknam cielos del Infinito seeks to generate a space for encounter, reflection and dialogue, questioning the historical processes that have marginalized indigenous populations and approaching hidden themes of official history, bringing back the value of this dialogue through contemporary art.
more info: www.cielosdelinfinito.com
______________________Parallel activities__________________________:
ROUND TABLE (not at Center Espronceda)
"Identity and representation of the indigenous from museums and the visual arts"
CASA AMÉRICA CATALUNYA [Carrer de Còrsega, 299,] | MONDAY, JUNE 3, 7pm |
RESSONS, SOUND ASSEMBLY
COMMUNITY ART WORKSHOP + PERFORMANCE SONORA
Performance that will go through the neighborhoods of Navas and La Sagrera, generating dialogues between the community, the instruments and the soundscape through the echoes produced in the urban territory.
Meeting point: Plaça de Ferran Reyes, culminating in Espronceda | SATURDAY 8 JUNE 18h |
Workshop registration: info@cielosdelinfinito.com
SCREENING WEB DISTANCE SERIES
+ conversation with Camila Marambio | co-director
Poetic but also scientific journey that arises from an interdisciplinary research program in Tierra del Fuego.
CENTRO DE ARTE ESPRONCEDA | SATURDAY JUNE 15TH 7:30 PM