2nd Festival International PASTE UP, 17th Nov. 12 – 20h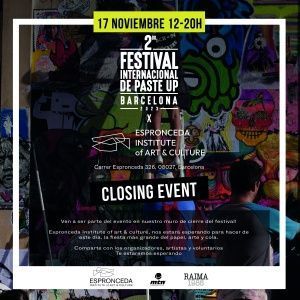 We are happy to invite you for the 2nd edition of Barcelona International Paste Up Street Art Fest, an initiative created by the BCNPasteUp collective, which aims to spread the culture of Paste Up through a festival on an international scale, with Barcelona being a reference point for the world capitals of Urban Art.
It is carried out in collaboration with urban and contemporary art galleries, bringing together people from all walks of life to explore the cultural and artistic values of the community, disseminating different forms of artistic expression.
Espronceda Institute of Art & Culture proposes to collaborate with the space of creation, integration with the community as well as providing an artistic residency for the winning artist, selected by our juries, where the artist will be able to develop his art living in the neighbourhood and in collaboration with the locals, ending the period of his residency with the exhibition of his art at the BCNUP festival.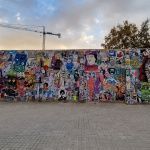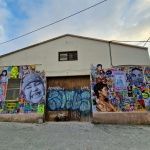 ABOUT THE 1ST EDITION, HERE.