CONVENCIÓN ANUAL NEB LAB 2023 – Ecosistema Cultura Sostenible.
29 of June 2023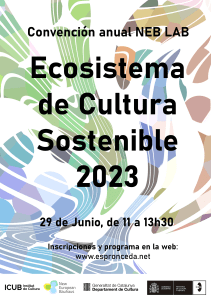 Inscriptions here: https://docs.google.com/forms/d/e/1FAIpQLScNvDGbgIX3bUapZg-fuF0B2CiHFeR5WdRZwLWo4EPrb9W4Bg/viewform?usp=sf_link
Schedule
10h30-11h00. Welcoming Guests
11h-11h10. Introducing NEB Lab – Sustainable Culture
11h15-11h30. Presentation of Sustainable Culture Ecosystem actions. Savina Tarsitano
11h30-12h00. Institutions that promote communities:
Fundació Catalunya Cultura, Fundació Epica.
12h-12h15. Coffee break.
12h15-13h. Institutions with social impact: Volungo,
13h-13h30 – Debate on New European Bauhaus. Among all the speakers attending.
13h30-14h30. Aperitif and networking. Visit of the exhibition Ecosystem of Sustainable Culture.