22/11/2018 @20h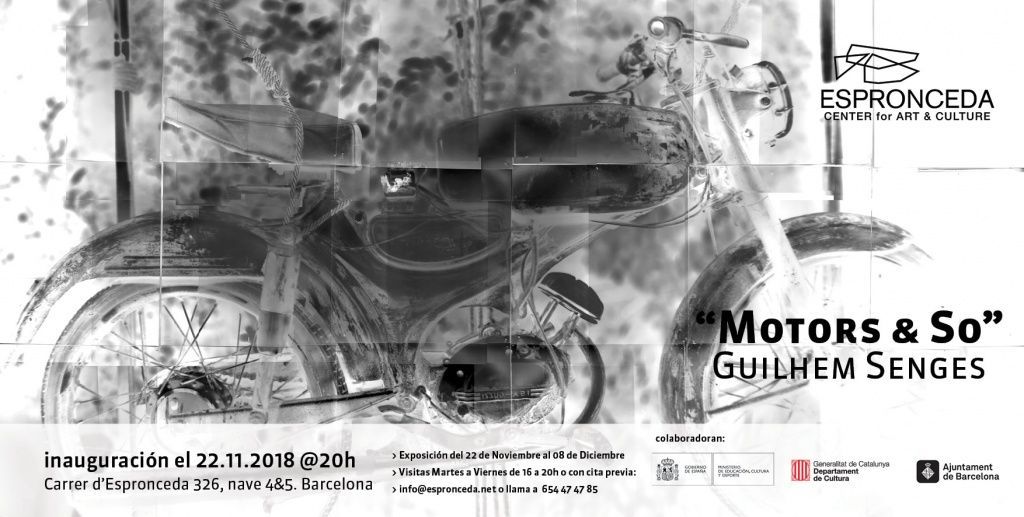 Espronceda Centre for Art and Culture is pleased to present the retrospective exhibition "Motors & So" of the sculptor and photographer Guilhem Senges, in which the artist experiments with different mediums in order to create a harmonious interplay between vision and hearing by bringing together analog photography, sound installations and interactive installations.  
Senges translates the analog process into a contemporary visual language, similarly to analog technology where information is converted into electric pulses of varying amplitude. Breaking out from a melancholic approach of the past or obsolete technologies, he recycles and reinterprets their use presenting them in a «Minimalism-Brutalism» playful manner.
As interactivity plays an important role in Senges' creative process, he brings in front of  the viewer not just the final artworks, but also the rudimental 'tools' used during his creative process which are transformed into artworks on their own. For this reason, the exhibition features the negatives along with the positives, thus the subjects photographed are showcased together with the series of real – size single print analog photographs. Likewise, as Senges is fascinated by experimentation, he turns a van into a camera obscura, where the van plays a double role, the one of  'tool' as well as of an interactive installation. The camera obscura is turned into a public space where the viewer has access by immersing into Senges' captivating universe.
"Motors & So" is in many ways an ironical reflection on current ecological discourses revolving around the promotion of new energy and broadens this debate by instead approaching the topic of the overconsumption of resources.
Mara Florean
Selected images from the exhibition: