RADIORATOR – PERFORMANCE BY AUGUSTINA PALAZZO
26th Oct. 20H, at Espronceda Institute of Art & Culture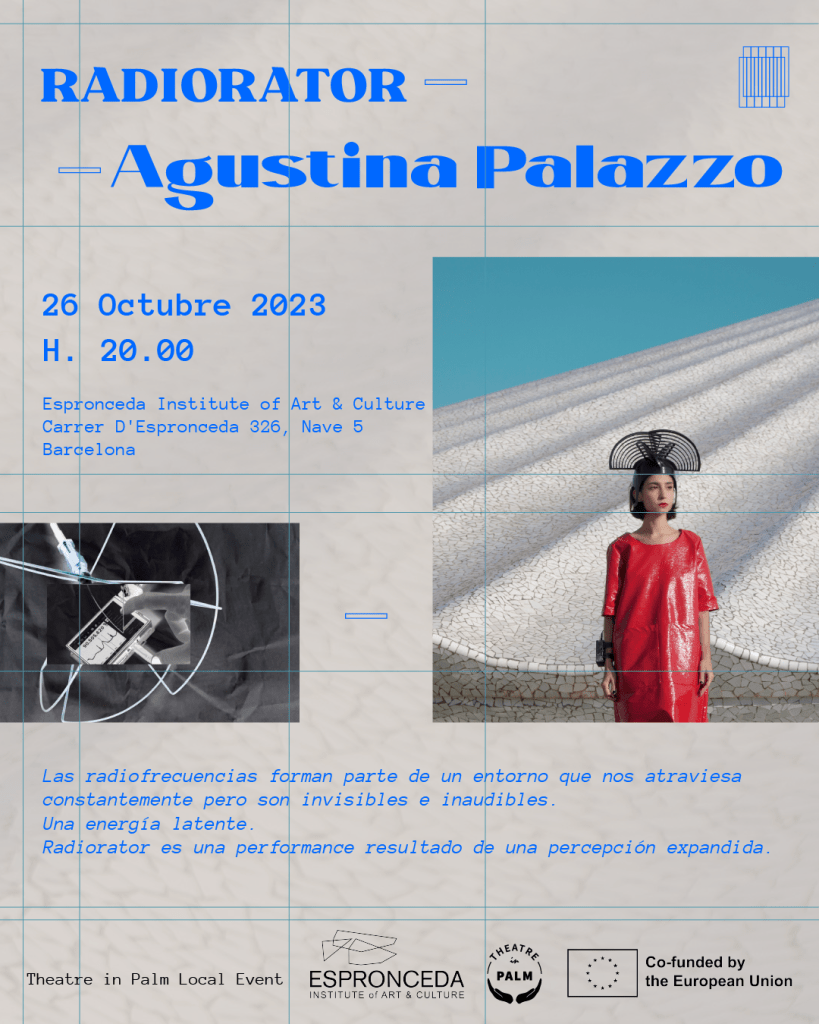 Espronceda Institute of Art & Culture is happy to present the performance Radiorator by the artist Agustina Palazzo, in the framework of the European Creative Europe project Theatre in Palm.
Radiorator is a sound experimentation performance, the result of the expanded perception generated by capturing radio frequencies through a digitally designed and manufactured technological helmet. The helmet-shaped wearable works as a portable device that allows you to listen to a broad spectrum of radio frequencies. Equipped with an antenna, it receives the frequencies that are around it, allowing it to interact with the environment. The radio frequencies are digitally decoded into sounds that she uses as raw material, generating a live piece that becomes experimental electronics. Oscillating between ambient and techno, they invite deep and introspective listening. Radiorator was born with a premise inspired by the cultural and intellectual movement "transhumanism" which is based on the philosophy that we can transform and expand the human condition using technology. More specifically we focus on the human senses and how to expand their capacity of perception. Radio frequencies are part of an environment that constantly passes through us but are invisible and inaudible. Through the technology included in the helmet, the human being can feel the invisible radio energy that is around him in the form of sound to generate in turn an auditory interpretation and turn it into an artistic expression, a performative and sonorous act. The helmet is a portable device that captures radio waves (electromagnetic waves from 3 to 300 Gh) and converts them into sound and image. This wearable uses an antenna and a Raspberry to convert analog signals into digital ones.
Agustina Palazzo is a multidisciplinary artist and cultural manager born in Córdoba, Argentina. In 2010 she began her studies in Audiovisual Communication where she started experimenting with visual and sound language, developing several videos and research works. Meanwhile, she founded the project "APOLO 91.7 FM", a cultural radio station of alternative and emerging music, but which at the same time claimed the language of radio by experimenting with sound and radio art. From 2014 to 2017 Agustina worked as artistic director of the radio station "APOLO 91.7FM" and as manager and producer of shows in several music and emerging culture festivals. After finishing her thesis on "Cultural Radio Projects" in 2014, she co-founded and directed the cultural space "220 Cultura Contemporánea". At 220 cc she specialised in cultural management and exhibition production. In 2017 Agustina traveled to Barcelona to specialize in new media and interactive technologies, applying for the "Masters in Advanced Interaction" at IAAC, Institute of Advanced Architecture of Catalonia, where she graduated with academic merit with the project "Radiocosmosuit" at "Augment senses Studio". In 2019, she collaborated as a cultural manager with MUTEK.ES, the festival of digital creativity as coordinator of the DIGILAB program, which links the festival with universities and institutions in Barcelona. In the same year, she joined Piramidón Centre de Arte Contemporáneo as Artist in Residence and participates in exhibitions and residencies with projects ranging from sound to performance. She currently teaches the Master's Degree in Digital Art Curating and the Diploma of Specialisation in Emerging Technologies at the Escuela Superior de Diseño de Sabadell and participates in collaborative and multidisciplinary projects at festivals in Europe and Latin America.
THEATRE IN PALM The Theatre in Palm project is a European platform, born out of the Creative Europe project under the same name, which brings together 12 partners from all over Europe to collaborate in the promotion and support of emerging artists in the field of performing arts. The project aims to be an open and intercultural European platform for the performing arts that enables the circulation of artists and artists' works beyond Europe's borders. https://theatreinpalm.turkuamk.fi/
PRESS RELEASE: RADIORATOR – AGUSTINA PALAZZO ESPRONCEDA
More about Theatre in Palm here.